Hypertension, or high blood pressure, is a prevalent health condition that poses significant risks to cardiovascular health. However, adopting certain lifestyle changes can help prevent hypertension and reduce the associated complications. In this article, we will explore six key lifestyle modifications that individuals in their 30s can incorporate to lower their risk of developing high blood pressure.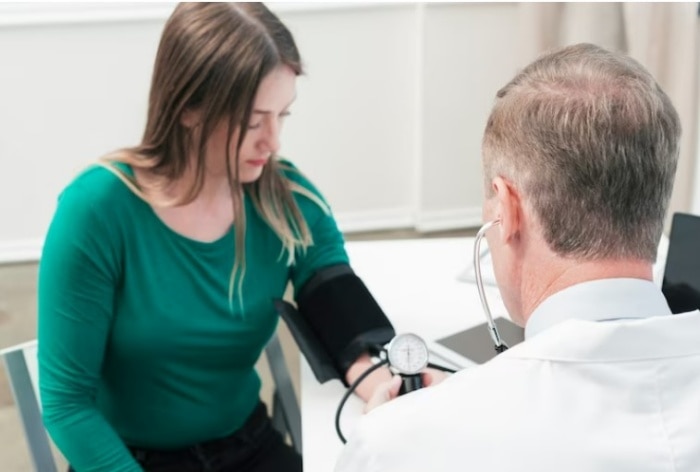 Diet: Limiting Sodium and Emphasizing Nutrient-Rich Foods
Maintaining a healthy diet is crucial for preventing hypertension. By limiting sodium intake and focusing on a diet rich in fruits, vegetables, whole grains, and lean proteins, individuals can effectively manage their blood pressure levels. The Dietary Approaches to Stop Hypertension (DASH) diet, which emphasizes low sodium and high potassium foods, has shown promising results in reducing blood pressure.
Weight Management: Achieving and Maintaining a Healthy Body Weight
Obesity and overweight are closely linked to hypertension. Excess weight puts strain on the cardiovascular system, leading to elevated blood pressure. Engaging in regular physical activity and adopting a balanced diet can aid in achieving and maintaining a healthy weight, thereby reducing the risk of hypertension.
Physical Activity: Exercise for Cardiovascular Health
Regular exercise is beneficial for overall cardiovascular health and plays a vital role in blood pressure management. Engaging in moderate-intensity aerobic activities such as brisk walking, cycling, or swimming for at least 150 minutes per week is recommended. Additionally, incorporating strength training exercises twice a week can further enhance blood pressure control.
Alcohol Consumption: Moderation is Key
Excessive alcohol consumption is a risk factor for hypertension. It is advised to limit alcohol intake to moderate levels, which means up to one drink per day for women and up to two drinks per day for men. Individuals with existing hypertension or other health conditions may need to avoid alcohol altogether.
Smoking Cessation: Quitting Tobacco for Better Cardiovascular Health
Tobacco use and exposure to secondhand smoke significantly increase blood pressure and damage blood vessels. Quitting smoking and avoiding smoke exposure are essential steps in preventing hypertension and improving overall cardiovascular well-being.
Stress Management: Reducing the Impact of Chronic Stress
Chronic stress can contribute to high blood pressure. Finding healthy ways to manage stress, such as practicing relaxation techniques (e.g., deep breathing, meditation, yoga), engaging in hobbies and activities that bring joy, and seeking professional guidance, can help reduce the risk of hypertension.
By implementing these lifestyle changes and consulting with healthcare professionals for personalized advice, individuals in their 30s can take proactive steps to prevent hypertension and promote long-term cardiovascular health.
Based on the entities mentioned in the previous conversation, here is a list of frequently asked questions (FAQs) that can provide the information we need:
Frequently Asked Questions
Who is Dr. Talha Meeran and what is their expertise in cardiac sciences and heart transplant?

Dr. Talha Meeran is a renowned expert in the field of cardiac sciences and heart transplant. They specialize in advanced cardiac procedures and have extensive experience in managing heart-related conditions. Their expertise lies in providing comprehensive care and guidance for patients requiring heart transplant procedures.

What are the causes and symptoms of hypertension?

Hypertension, or high blood pressure, can have various causes, including genetic factors and lifestyle choices. Common symptoms of hypertension include persistent headaches, dizziness, blurred vision, shortness of breath, and chest pain. It is important to note that hypertension may not always present noticeable symptoms, making regular blood pressure monitoring crucial.

What are the recommended lifestyle changes to prevent hypertension in people in their 30s?

Adopting certain lifestyle changes can help lower the risk of hypertension in individuals in their 30s. These changes include maintaining a healthy diet, limiting sodium intake, managing weight through regular exercise and balanced eating, engaging in physical activities such as brisk walking or swimming, moderating alcohol consumption, and implementing stress management techniques.

What are the detrimental effects of smoking on blood pressure and cardiovascular health?

Smoking and exposure to secondhand smoke significantly increase blood pressure and damage blood vessels, leading to an increased risk of hypertension and cardiovascular diseases. Tobacco use is associated with a higher likelihood of heart attacks, strokes, and other serious complications. Quitting smoking and avoiding exposure to smoke are vital steps in preventing hypertension and improving overall cardiovascular well-being.

How can chronic stress contribute to high blood pressure, and what are effective stress management techniques?

Chronic stress can contribute to high blood pressure. Prolonged stress triggers physiological responses that impact blood vessels and cardiovascular health. Effective stress management techniques include practicing relaxation techniques like deep breathing, meditation, and yoga. Engaging in hobbies and activities that bring joy and seeking professional guidance for personalized