'1000-Lb. Sisters' Season 4: Where Does Tammy Slaton Go to Rehab?
2 months ago
Showbiz Cheat Sheet
TLC's 1000-Lb. Sisters Season 4 Episode 1 shows Tammy Slaton's declining health. The premiere begins with Tammy heading to the hospital from a rehab center after her body begins to fail. Thankfully, after being in a medically-induced coma, she survives. So, where does Tammy go to rehab? Here's what to know about the facility.
Tammy Slaton was transported to the hospital from rehab in '1000-Lb. Sisters' Season 4 Episode 1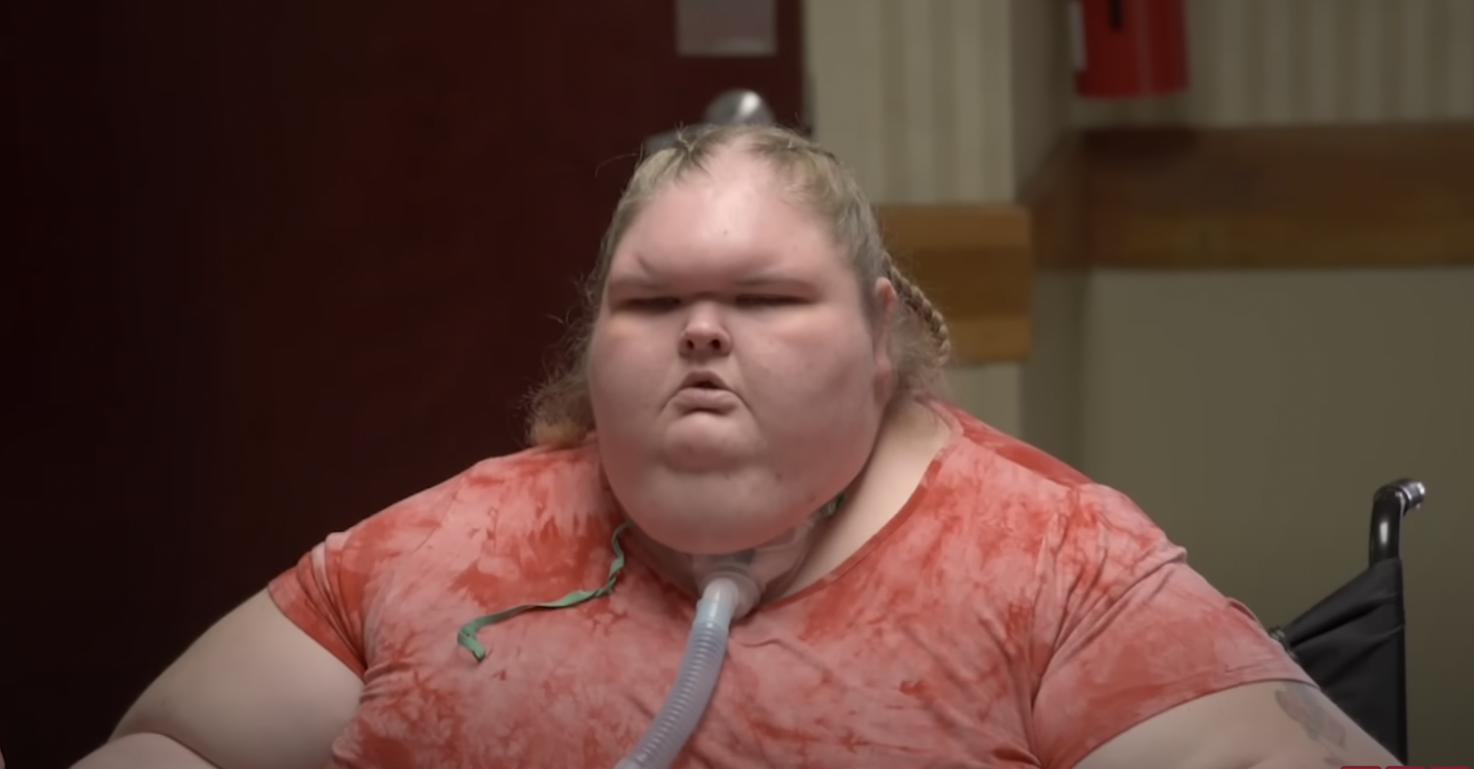 Tammy Slaton in '1000-Lb. Sisters Season 4' | TLC via YouTube
The first episode of 1000-Lb. Sisters Season 4 shows Tammy Slaton seriously ill. The Slaton sister feels unwell and decides to head back to rehab — but once she's in rehab, she gets transported to the hospital.
"I've decided to go to rehab. Fed up with being sick all the time, just everything," Tammy said.
Chris Combs then explains the phone call he received. "But, the next day, the facility called and told me Tammy took a turn for the worse, and they had transported Tammy to the hospital, and she had quit breathing," he explained. "They didn't know if she was going to make it through the night."
Thankfully, Tammy made it through, though she had to get put into a medically-induced coma and then receive a tracheotomy in the process. She also revealed that she hit the highest weight in her life — 717 pounds.
Where does Tammy Slaton go to rehab?
So, what rehab facility did Tammy Slaton attend? Tammy apparently went to Windsor Lane Health Care and Rehabilitation Center in Gibsonburg, Ohio.
"Windsor Lane Health Care is a privately-owned skilled nursing facility just 30 minutes southeast of Toledo and 15 minutes west of Fremont in Gibsonburg, Ohio," their website reads. "We offer a caring, supportive environment to all who cross our threshold, and are blessed with a group of committed employees who remain with us over the years; neighbors caring for neighbors."
Windsor Lane Health Care offers respiratory and ventilation care, which is likely why Tammy stayed there. Tammy and Amy Slaton also still live in Dixon, Kentucky, as of 1000-Lb. Sisters Season 4, is about seven hours away from the treatment center.
Tammy appeared to still live at the Ohio facility as of December 2022. The Sun reports she received bariatric surgery in Lexington, Kentucky, then headed back to Ohio to recover. "It was a little scary, but she recovered quickly," a source explained. "The first few days were really tough on her, but she was still able to talk and was with it. … Staying in rehab is, of course, very hard for her because she wants to be home."
She got married at the facility
Tammy Slaton is now a married woman!

The 1000 Lb. Sisters star tied the knot with husband Caleb Willingham on Saturday at Windsor Lane Rehabilitation Center in Gibsonburg, Ohio, PEOPLE can exclusively reveal.

More details here: https://t.co/qXtVBWheWt pic.twitter.com/zTRKjy79l5— People (@people) November 20, 2022
While Tammy Slaton wants to head home from her rehab facility, she made lasting memories there. She married Caleb Willingham at the Ohio rehab center in November 2022. Tammy met Caleb while living at the facility, People reports. The two plan on moving together back to Kentucky.
Amy likes Caleb a lot more than Tammy's ex, Phillip. "Tammy told me she broke up with Phil, and I'm like, about damn time," Amy said on 1000-Lb. Sisters. "Now you need to work on yourself. Tammy don't need somebody that wants her to be a glutton. I'm hoping with the whole breakup, it don't deter Tammy away from her weight loss, because she needs to lose this 25 lbs. The doctor gave her a goal."
1000-Lb. Sisters Season 4 airs Tuesdays at 9 p.m. ET on TLC.
For more on the entertainment world and exclusive interviews, subscribe to Showbiz Cheat Sheet's YouTube channel.
Continue reading...
Read On "Showbiz Cheat Sheet"
More News On "Showbiz Cheat Sheet"