Bay Area is waking up to a freeze warning. When will warmer weather arrive?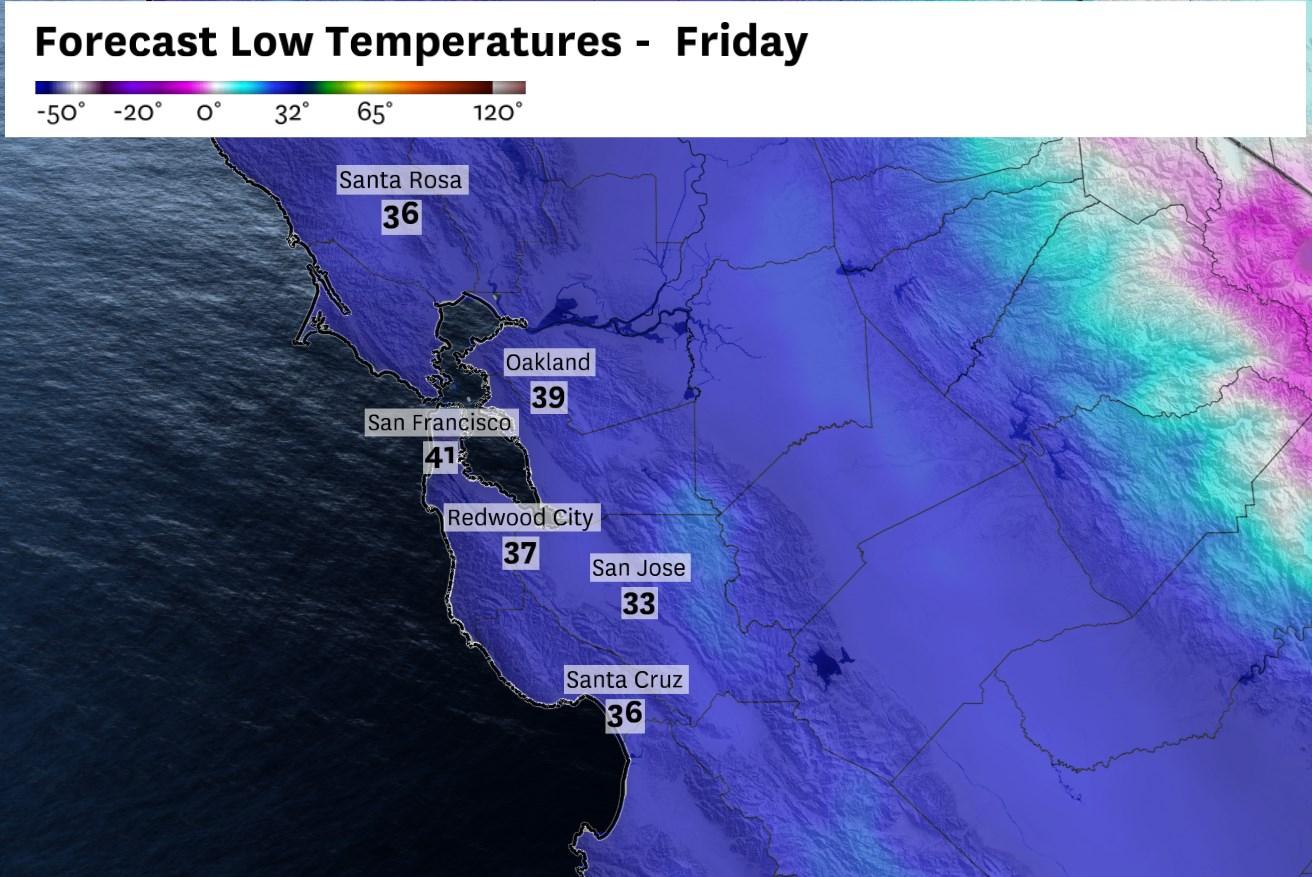 2 months ago
San Francisco Chronicle
The Bay Area is waking up to a bitterly cold morning Friday, with freezing or below freezing temperatures in inland valleys in the North and East bays and the Santa Clara Valley, including San Jose and towns east. The cold front that brought showers on Wednesday, also carried cold air into the region that will continue into the weekend.
The freeze warning in place for Friday morning will end at 9 a.m., but another will take its place tonight, when temperatures plummet again after sunset. That cold, dry air will hang around through Sunday morning and keep temperatures below average across the Bay Area, but a warm-up is right around the corner.
Warmer days are coming
By Sunday, afternoon temperatures will be warmer and closer to average across the Bay Area, with San Francisco approaching its average high temperature of 58 degrees. The warm up is thanks to a ridge pattern moving towards the West Coast.
SF Chronicle
A ridge is a large area of high pressure that causes air to sink, preventing clouds from forming and leading to the clear skies and lighter winds coming to the Bay Area. The rising temperatures, meanwhile, are due to warmer air moving in from the equator. This ridge will hover over the West Coast starting Sunday and continuing into next week, so we can expect highs in the upper 50s for Sunday afternoon and into Monday.
Prepare for king tides
King tides usually occur during winter on the West Coast around a new or full moon. In the case of this weekend, king tides will happen during a new moon phase and will last until Monday afternoon.
High tide — happening at 9:22 a.m. Friday, 10:15 a.m. Saturday, 11:08 a.m. Sunday and 12:01 p.m. Monday — and may reach over 7 feet along the Pacific Coast and San Francisco Bay shorelines. Water may flood low-lying areas, especially spots that flooded from recent storms. Low tides could be lower than sea level and may affect boaters in shallow waters. On Saturday at 5:15 pm, the tide will be at its lowest height of -1.76 feet.
Weekend breakdown
San Francisco: Cold, dry air is in store for the city over the next couple of days, with residents in downtown, SoMa, the Mission and Castro expected to start their Friday and Saturday mornings with temperatures in the upper 30s to lower 40s. Even colder mornings are on tap around Bernal Heights, Twin Peaks and neighborhoods south of 280 like Balboa Park and Portola, where calm winds and clear skies will allow temperatures to fall to the mid-30s around dawn. This bitter cold air will be hazardous for unhoused residents over the next couple nights. Daytime temperatures will be a little on the warmer side, with highs in the lower 50s in the Richmond and Sunset districts, Lake Merced, the Presidio and Golden Gate Park, and mid-50s east of Sutro Tower. But as soon as the sun sets, the cold air will quickly return to the city. Thankfully, a warm ridge of high pressure will build over Northern California starting on Sunday. Daytime highs across San Francisco will promptly rise by three to five degrees as warmer air trickles down from Mount Davidson and Mount Sutro. Look for highs in the upper 50s in Twin Peaks, Bernal Heights and McLaren Park and more widespread highs in mid-50s in the rest of the city by Sunday afternoon. This warm air will also promote nighttime temperatures that will stay above 40 degrees citywide between Sunday night and Monday morning.
Pacific Coast and Peninsula: Bitter cold air will settle over Highway 92 this morning, with temperatures around dawn struggling to stay above 30 degrees. A few isolated pockets of the Peninsula could even dip into the 20s Friday morning before sunshine helps raise temperatures again. Look for widespread daytime highs on Friday and through the weekend in the mid-50s between Pacifica and Half Moon Bay, while pockets of lower 50s will dominate the rest of the coastline.
Much cooler nighttime temperatures are on tap for the Peninsula on Friday and Saturday, with Daly City, Millbrae and Colma slated to see upper 30s. Some of the coldest spots, including San Francisco International Airport and towns along Highway 92, could start their next two mornings with temperatures just below freezing. The calm winds on the Peninsula will also raise concerns for nighttime fog to form along the San Bruno Gap, so be prepared for reduced visibility if you plan on driving between Millbrae and Brisbane on 101 the next couple of nights. The rest of the Peninsula will also see chilly nights, with widespread upper 30s and lower 40s forecast for Redwood City, Foster City and Atherton. Thankfully, by Sunday a ridge of high pressure will approach the Peninsula and its warm air will raise daytime and nighttime temperatures by three to five degrees.
North Bay: Be sure to watch for frost on windshields over the next couple of mornings and nights, because bitter cold air is slated to impact most of Marin, Sonoma, Napa and Solano counties. Cities like Santa Rosa and Petaluma will bear the brunt of the cold air mass as upper 20s settle over the inland valleys of the region on Friday and Saturday mornings. It will be quite the temperature whiplash this weekend for residents along Highways 101, 12 and 29 as daytime highs peak in the upper 50s and then rapidly drop to the lower 30s the next couple of nights.
Drought Map
Track water shortages and restrictions across Bay Area
Updated to include drought zones while tracking water shortage status of your area, plus reservoir levels and a list of restrictions for the Bay Area's largest water districts.
Depending on how quickly winds drop off, pockets of fog might form along portions of northern Napa and Sonoma counties — including cities like Healdsburg and Guerneville — on Friday and Saturday morning. The same goes for the Marin Headlands, where winds are slated to calm by 1 a.m. This means overnight temperatures will likely fall to the upper 20s. Residents closer to San Pablo Bay will end up with warmer overnight temperatures closer to the lower 40s thanks to the bay influence. Some of that warmer air will then seep into Solano County cities like Fairfield and Vacaville, where lows will hover around the lower to mid-40s.
By Sunday, a ridge of high pressure will help to raise daytime highs to the lower 60s region-wide, providing some welcome relief from the cold spell. This warmth will translate over into Sunday night and Monday morning as temperatures in the inland valleys stay above 40 degrees.
East Bay: Bitterly cold air is slated to seep into the region on Friday and Saturday morning, as residents in the East Bay wake up to temperatures near freezing. A few patches of the Oakland and Berkeley foothills, including spots near Piedmont, Albany and Castro Valley, could even dip down to the upper 20s right before dawn. Ample sunshine will then help temperatures rebound every afternoon, meaning cities on I-880 and I-80 corridors will climb to the mid-50s. By Sunday, a high pressure ridge will introduce warmer air to San Francisco Bay. Daytime highs will climb another two to three degrees by Sunday afternoon, so that Alameda, Fremont, Hayward and the rest of the I-880 corridor will reach the upper 50s. This warm-up will carry over to Sunday night as temperatures after sunset are slated to stay above 40 degrees.
A similar temperature swing is on tap for residents east of I-680, with the San Ramon and Livermore valleys slated to see nighttime temperatures in the upper 20s to lower 30s and daytime highs in the mid- to upper 50s. This means cities like Walnut Creek, Antioch and Brentwood will see as much as 30 degrees of temperature differences between day and night. This will raise hazards for pets, people and exposed plants over the next couple of nights. Thankfully, a ridge of high pressure will usher warmer air into the East Bay by Sunday afternoon, meaning daytime and nighttime temperatures will climb three to five degrees by the end of the weekend.
South Bay and Santa Cruz: Dry, cold air will be seeping into the Cupertino Hills and East San Jose over the next couple of mornings and nights, spilling into San Jose and keeping temperatures in the upper 20s to lower 30s. Thankfully, sunshine will help raise temperatures to the mid-50s during the day. The whiplash between nighttime and daytime temperatures will prompt concerns for residents in the Santa Clara Valley and Santa Cruz Mountains who are still recovering from recent flooding. Be sure to watch for any icing on roadways on Friday and Saturday morning, especially near areas where flood waters haven't yet receded. Look for 25 to 30-degree temperature swings between day and night along 280, 101 and Highway 17 — including portions of Los Gatos, Cupertino Hills, East San Jose and the 101 corridor between Morgan Hill and Gilroy. Heading over the hill, some of the warmest areas in Santa Cruz County this Friday and Saturday will be along the immediate shoreline, where Monterey Bay's warmer waters will keep Santa Cruz, Capitola and Watsonville closer to the lower 40s every night. Temperatures will then climb by three to five degrees by Sunday as warmer air finally returns to the region.
Gerry Díaz (he/they) and Michelle Apon are San Francisco Chronicle newsroom meteorologists. Email: [email protected] Twitter @geravitywave Email: [email protected]

Continue reading...
Read On "San Francisco Chronicle"
More News On "San Francisco Chronicle"