Bay Area to see warming trend this holiday weekend. Will nighttime temperatures follow suit?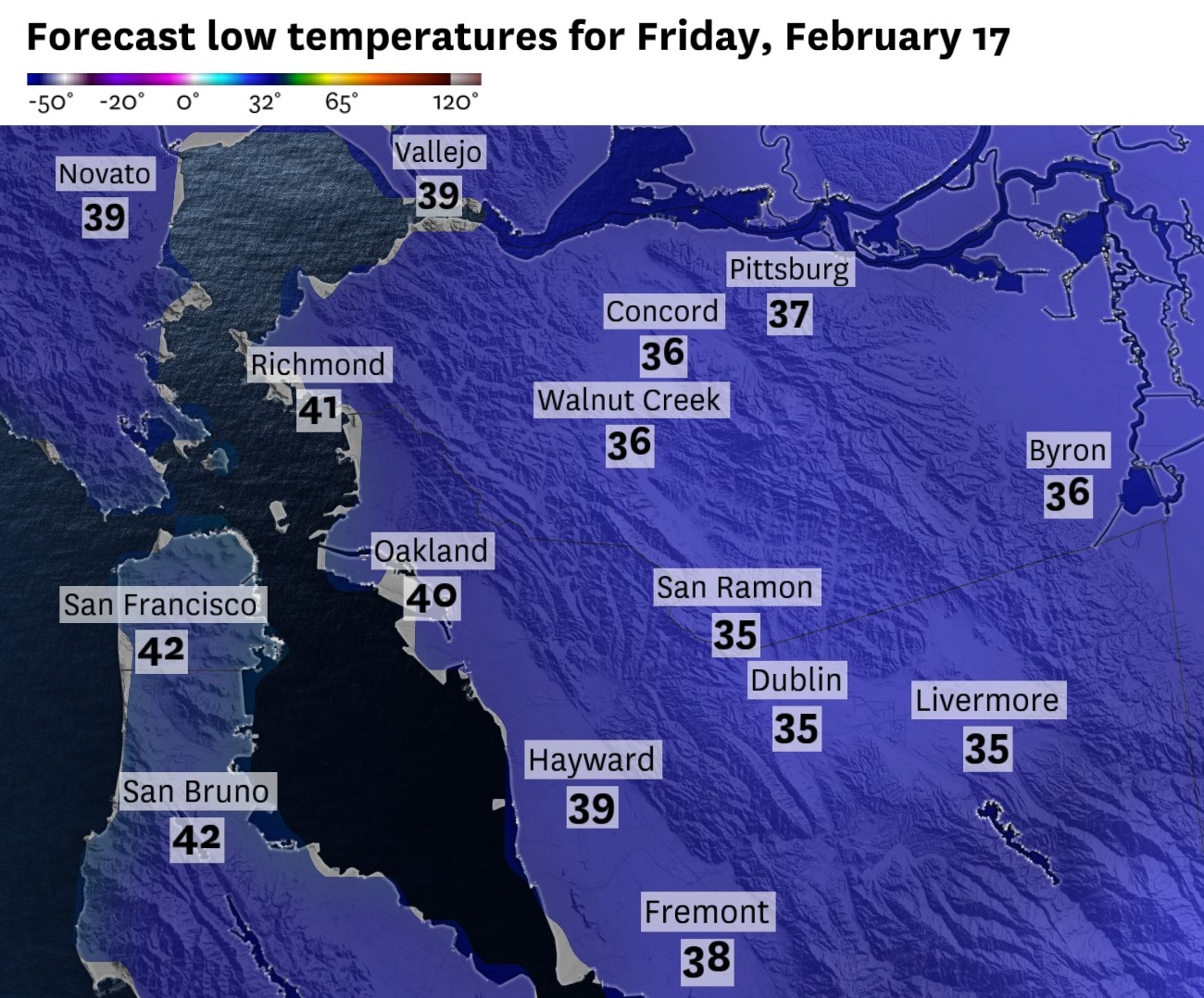 1 month ago
San Francisco Chronicle
The Bay Area is finally starting to thaw out today as a warm high-pressure system approaches California, setting off a warming trend this holiday weekend. The system will stomp out clouds this afternoon and make way for sunshine and a light, warm breeze in the inland valleys over the next couple of days. But after sunset, residents across the region will want to bundle up. Weather models are forecasting a big difference between daytime and nighttime temperatures this weekend – with some valleys in the North Bay likely to fall by as much as 30 degrees every night.
Baron Lynx
Cities across inland valleys in the North Bay and East Bay will foster plenty of sunshine and warm daytime temperatures this weekend, with hi-res weather models suggesting a few spots near cities like Santa Rosa and Dublin could briefly reach the 70s by Sunday. Residents heading outside will be able to bask in some of the warmest temperatures the Bay Area has seen in recent weeks, but you may not want to break out the shorts just yet. 
Those same weather models aren't signaling a big warmup in night time temperatures this weekend. In fact, most of those inland cities where daytime highs will reach the upper 60s and lower 70s will be falling right back down to the 30s the next couple of nights.
Baron Lynx
Ironically, this weekend's bitter cold, nighttime lows will be driven by the same high-pressure system that's cranking up daytime highs. As its winds drain from higher levels of the atmosphere to ground-level, the high-pressure system will stomp out clouds across Northern California. The clear skies across the region will help the ground absorb the sun's warm rays during the day. But after sunset, that source of warmth will be gone. And like a poorly-insulated house, the clear skies will let a lot of that warmth escape into space.
It's important to remember that it's still February. So, on top of the lack of cloud cover forecast for the Bay Area's valleys and hills, there is also plenty of cold air sitting at the highest levels of the atmosphere around this time of the year. Because the high-pressure system will be draining its winds down to ground-level all weekend long, it will also reel in some of that cold air to the valleys and hills of the region at night.
It's a recipe for cold nights and unfortunately, it means the Bay Area's inland valleys are slated for some dramatic temperature swings between day and night. So, if you do end up staying out late, just make sure you bring some warm winter clothes along for the night.
Weekend breakdown
San Francisco: High clouds will hang around the city on Friday morning before sunshine begins clearing them out. The European weather model forecasts a light breeze along the coast that will sustain some of the clouds over the west side through the afternoon, but for the most part expect daytime highs to reach the 60 degree mark in the Sunset and Richmond districts, Lake Merced and the Presidio. Residents east of Sutro Tower will enjoy temperatures in the lower 60s, with a chance for mid-60s in wind-sheltered and sunny neighborhoods like Mission-Dolores and Glen Park. 
Look for mostly sunny skies and warm temperatures on Saturday and Sunday as a warming trend raises temperatures across the city by another 1 to 3 degrees. The warming trend will carry over into overnight lows as well, with nighttime temperatures staying above 40 degrees across the city and only dropping to the mid-40s on the west side by Saturday night into Sunday morning. 
Pacific Coast and Peninsula: Light northwest winds will blow in from the Pacific Ocean Friday and into the holiday weekend, spreading east from the Half Moon Bay and Pacifica coastlines to the San Bruno Gap. This breeze will be accompanied by high clouds on Friday, but drier air will allow for sunnier skies on Saturday and Sunday. 
Look for a warming trend between Friday and Sunday thanks to the sunshine, raising daytime highs from the lower 60s to the mid-60s. Daly City and San Francisco International Airport will be some of the warmest spots thanks to the sunshine, while residents downwind of this holiday weekend's breeze – cities along the 101 corridor south of Millbrae like Redwood City, Foster City and Atherton – will likely stay in the lower 60s this holiday weekend.
The warmer daytime weather will also translate into warmer nighttime weather, as overnight lows on the coast and along the 101 corridor between Daly City and Palo Alto rise from the upper 30s Friday night to the lower 40s by Saturday night and Sunday night. A similar trend is on tap for the coast as nighttime lows rise from the lower 40s on Friday night to the mid-40s by Sunday night.
North Bay: Once the clouds clear out Friday morning, residents in Petaluma, Santa Rosa and Napa valleys –  along with some of the summits in the Marin Headlands – are in for a warm and mostly sunny holiday weekend, with daytime highs climbing to the upper 60s on Friday and Saturday afternoons and the 70-degree mark by Sunday and Monday. 
A high-pressure system will stomp out any chances for drizzles this holiday weekend across Napa and Sonoma counties, leading to patches of daytime highs in the lower 70s by Sunday across inland towns like Healdsburg, Guerneville and Calistoga. Residents immediately near the delta, Marin County's banana belt and in Solano County will be 2 to 3 degrees on the cooler side thanks to a light breeze off San Pablo Bay. 
Drought Map
Track water shortages and restrictions across Bay Area
Updated to include drought zones while tracking water shortage status of your area, plus reservoir levels and a list of restrictions for the Bay Area's largest water districts.
Just be sure to carry a warm jacket or hoodie if you plan to be out after sunset. While nighttime lows are also slated to stay above freezing over the next few nights, weather models keep them just under 40 degrees across most of the region. This means cities where temperatures reach the upper 60s and lower 70s by Sunday and Monday will still be dealing with nighttime lows in the mid- to upper 30s by Sunday night.
East Bay:  Weather models are forecasting a warm up across Alameda and Contra Costa counties over the holiday weekend as a high-pressure system stomps out this Friday morning's pesky clouds and makes way for sunshine and calm winds.
Weak winds will drain into Castro Valley and Hayward over the next few days, raising temperatures along the I-80/I-880 corridors. Look for daytime highs in the lower 60s on Friday, Saturday and Sunday in cities like Alameda and Fremont, while mid- to upper 60s settle over the Berkeley and Oakland hills. The warmest temperatures will be in the San Ramon and Livermore valleys, where Walnut Creek, Lafayette and Dublin will enjoy daytime highs  in the upper 60s. Thanks to dry air from the high-pressure system and abundant sunshine, the hills east of the Caldecott tunnel I-680 could even reach the lower 70s by Sunday and Monday.
But the warm, sunny weather this holiday weekend will also be juxtaposed with cold, clear nights. Weather models are forecasting nighttime temperatures below 40 degrees across most of the inland valleys east of I-680, while lower 40s will settle over cities immediately along San Francisco Bay.
South Bay and Santa Cruz: A high-pressure system will set up north of the Santa Clara Valley and the Santa Cruz Mountains.  This system will stomp out clouds across the region, resulting in ample sunshine and comfortable daytime temperatures this holiday weekend.
After Friday's clouds clear out around noon, the rest of the holiday weekend will see a warming trend as sunny skies raise daytime highs in San Jose, Milpitas and Sunnyvale to the mid-60s on Friday and Saturday and upper 60s to lower 70s by Sunday and Monday.  The light breeze off Monterey Bay will keep coastal areas around 2 to 3 degrees cooler, but it will still be sunny all weekend long in Santa Cruz, Aptos and Capitola. By Sunday and Monday, the warm air will raise portions of East San Jose, Los Gatos and Morgan Hill to the 70-degree mark.
Just don't forget to take a warm jacket or hoodie with you if you plan to be out late, because nighttime lows this weekend will still fall to the lower 40s on the coast and upper 30s farther inland.
Reach Gerry Díaz: [email protected]; Twitter: @geravitywave

Continue reading...
Read On "San Francisco Chronicle"
More News On "San Francisco Chronicle"