Can a farmers' market spark change in West Oakland?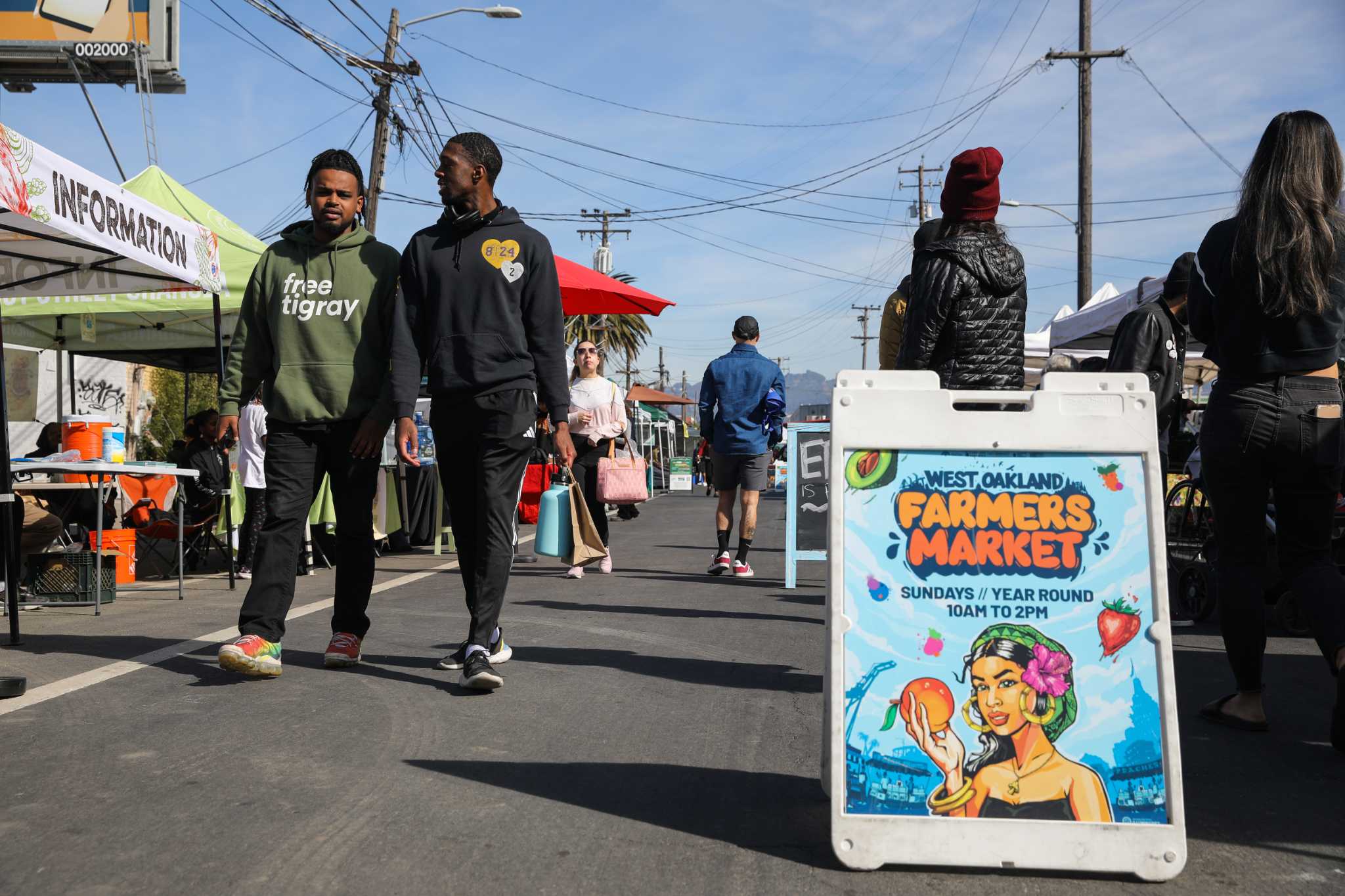 1 month ago
San Francisco Chronicle
MarQuita Pettis has been told she's too young to make jam — a decidedly "old-school" pursuit, the domain of grandparents and self-conscious revivalists of retro traditions. Now, a few years after canning her first batch, her business, That's My Jam, sells pineapple-berry, strawberry-fig and other low-sugar blends at the West Oakland Farmers Market. 
Nearly every Sunday morning, that's where you can also find potstickers, oysters, coffee worth a detour, Cuban fritas, vivid smoothies, Oaxacan tamales, burgers, local honey, cheesecakes and mountains of vegetables. You can shop for the week and feast yourself into a contented torpor.
Few associate such agricultural and culinary bounty with Prescott, which is hemmed by Grand and 7th Streets, Mandela Parkway running through it like a grassy green spine. 
Until seven months ago, the West Oakland Farmers Market didn't even exist.
"This neighborhood has been historically neglected and dismissed," says Harvindar Singh, whose company Foragers Markets operates this market, along with others in San Ramon, Livermore, and Fremont. "Other market operators have stayed away — there's been a void for too long." 
Originally, funding for the market came from an unusual source: srmErnst, a commercial real estate developer. Planned with input from the Prescott Neighborhood Council, and supported by a resolution introduced by District 3 Councilmember Carroll Fife, West Oakland's market is now entirely self-sufficient. It aspires to fill that void with more than food: by launching fledgling businesses like That's My Jam, spurring community dialogue, responding to the community's needs and highlighting its creative and entrepreneurial power.
Juliana Yamada/The Chronicle
Juliana Yamada/The Chronicle
The success of the market, small as it is, could also be a signal to investors that the neighborhood of over 6,000 residents deserves something besides expensive condos resembling a fastidious toddler's Lego project. These goals require private capital and development, city planning and grassroots efforts — a complicated alignment of interests with the potential to bear beautiful fruit.
Even as its roster of stands fluctuates this winter, this permanent, year-round market is but the first step in srmErnst's bigger plan. The developer plans to open a 12,000-square-foot food hall on 18th Street in August 2023 — the concrete second phase in a plan for revitalization, a familiar theme in stories about places like Prescott. 
Singh, who previously spent ten years scouring markets for promising products as the "local forager" for Northern California Whole Foods stores, will select tenants for this food hall, too. 
Singh says he always envisioned that the market would both serve and reflect its setting. A local muralist group, Illuminaries, designed the market poster. According to Singh, 80% of vendors are people of color, including market management. 
"We're bringing opportunity to underrepresented food and farm entrepreneurs who have had a hard time getting into bigger markets," Singh explains. 
"There are other markets you could be at on a Sunday," says MarQuita Pettis, "and this one is newer and growing, but you're choosing to be there, knowing the community's history and intentionally wanting to be part of that wealth."
Juliana Yamada/The Chronicle
Juliana Yamada/The Chronicle
Baby Bean Pie co-owner Zakiyyah Shaheed knew there'd be a demand at the market for his pies, a bean custard dessert of culinary and cultural importance to many Black Muslims, one connected to Oakland's history. "The community missed our products," says Shaheed. "People will come up and say, 'I haven't had [a bean pie] in five or ten years.'" 
Among other partners, the market works with ALBA, a Salinas organization that trains field laborers in organic farm management. Some of the market growers are ALBA alumni, including  Tikal Organic Farms, whose stand sells beets, carrots and rainbow chard. Tikal owner Fernando Rodas says that the West Oakland market gave him his first chance to sell directly to customers. JSM Organics, another ALBA alumni business, was a go-to stand for berries until the January 2023 floods severely damaged its crops in Monterey County.
To go with the pie, jam, vegetables and berries, market goers can also get a free COVID test, spend food stamps and buy a book from Nomadic Press. These are benefits as precious as perfect produce or a breakfast treat. 
Perhaps most importantly, in a community hard-hit by COVID-19 and bereft of safe meeting places, the market has become a social hub.
"This market caters to folks who need that activity," says Marcus Johnson, chair of the Prescott Neighborhood Council. Johnson, age 68, has always lived in the neighborhood. "It's different from a grocery store. You see that in any flea market," he adds. "Folks go for the experience, maybe more than the product."
Juliana Yamada/The Chronicle
Juliana Yamada/The Chronicle
A farmers' market doesn't create changes on its own, explains Prescott resident Tim Lohrentz, who operates Chestnut Street Granola with his wife and partner Rachel Russell. Russell and Lohrentz started selling homemade granola after guests at their wedding enjoyed party favor bags filled with early prototypes.
"It's a place to gather, and that's where a lot of ideas related to housing or business can formulate," he says. "Vibes spark things that happen because it exists. People look at empty buildings and think about what could be there."
The term "food desert" gets thrown around a lot with West Oakland, because there's housing going up every week and yet the closest thing to a grocery store is the well-stocked and enduring (but small) Mandela Grocery Cooperative on Mandela and 7th. West Oakland's single full-service market, Community Foods, was ambitious but ultimately closed in February 2022 after less than three years in business. 
Of course, things weren't always this way. Fifty years ago, Johnson could walk a block and find a grocery. "We'd have corner markets diagonally across from one another. Seventh Street used to be our downtown," he says. "And the West Oakland library was my daycare when school was out."
Pettis, of That's My Jam, grew up in East Oakland but remembers visiting friends and family in Prescott. She always viewed the neighborhood as "prestigious."
"I remember looking at Victorian houses and thinking about them being owned by Black lawyers and doctors," she says. "That was important to me." 
Juliana Yamada/The Chronicle
Juliana Yamada/The Chronicle
Prescott was always a place in flux, says Johnson. "A lot of people assume [this neighborhood] was always Black, but it was an entry point for many folks coming to the Bay Area — one of the oldest neighborhoods in Oakland," he explains. Development, he believes, can help rehabilitate its outdated infrastructure. After the Great Migration more than doubled Oakland's Black population in the 1940s, highway and BART construction and an array of "urban renewal" projects closed businesses, destroyed homes and displaced households.
Historically, development hasn't always benefited neighborhoods. As Singh jokes, "no one has a problem with vegetables." But the gentrification associated with organic produce and single-origin coffee can drive out lower-income residents. There's also a lengthy record of projects in Bay Area neighborhoods like Prescott exposing residents — disproportionately people of color — to unhealthy toxins.
Joe Ernst, the founder of srmErnst, says he sees the promise in Prescott. Ernst's company repurposes buildings once used for industrial and manufacturing purposes, adding offices and amenities, not residential units. Past projects have included Bldg 91 in Alameda, home to Almanac Brewing Co., and the I. Magnin Building in Downtown Oakland. According to Ernst, Prescott is well-situated, an 11-minute bus ride from downtown, six minutes from Emeryville and even closer to the Bay Bridge, encircled by highways shooting off to other parts of the Bay Area. 
"Its time has come," Ernst says. "We've always wanted to have an impact on the area, not just build and lease." 
That vision of the neighborhood echoes the more bustling past that Prescott Neighborhood Council chair Marcus Johnson remembers.
"We had barber shops and pharmacies as well as groceries — necessities to make a vibrant neighborhood," says Johnson. "I look to have these things within walking distance."  
While it won't provide such a full slate of amenities, the food hall, according to Singh and Ernst, aims to enrich the neighborhood. 
"We want to curate the tenant collection and not create excessive competition in a location that can't support it yet," explains Ernst. Singh, says Ernst, has a talent for identifying vendors with strong business plans as well as special products. The market may serve as a talented farm team for what could end up in the food hall — or a brick-and-mortar elsewhere.
Juliana Yamada/The Chronicle
"The market is an incubator, a great place to grow and learn," says Singh. 
An "overabundance" of quarantine strawberries first encouraged MarQuita Pettis to make jam, but she also remembers helping relatives garden when she was a child. 
Inspiration comes in the moment, shaped by the past. In this sense, the market isn't an old school throwback or a brand-new bag; it's a remix, a preview of a diverse, walkable, retail-dense neighborhood — a product of both vital history and fresh ingenuity. The terrain has always borne fruit. The void is filled from within as well as by resources and acumen from the world outside. 
According to Councilmember Fife, whose resolution allowed the use of street space on Sundays, the market is "a needed resource that has rejuvenated the neighborhood in a way long-time residents have been wanting to see for years."
For Prescott lifers like Johnson, there's a lot riding on its success. "I'm hoping to remain here," he says. "I don't want to have to learn another neighborhood."
Andrew Simmons is a freelance writer. E-mail: [email protected]

Continue reading...
Read On "San Francisco Chronicle"
More News On "San Francisco Chronicle"