Despite tech layoffs and remote work, Silicon Valley's economy not in 'crisis' mode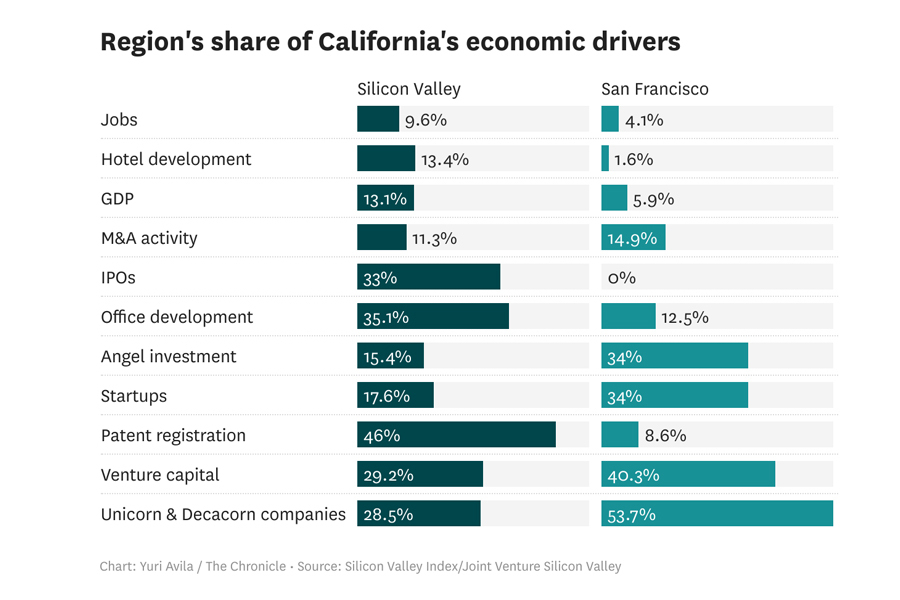 1 month ago
San Francisco Chronicle
Silicon Valley is a region in flux, but one that maintains strong economic underpinnings, despite layoffs, the pandemic and the dramatic increase in working from home, according to an annual report from Joint Venture Silicon Valley, a nonprofit business and community group. 
"There is no way we can construe this as a crisis," said Russell Hancock, the group's CEO, in a press briefing on Tuesday about the Silicon Valley Index. "The only way we can accurately depict this is as an adjustment." 
The report defines Silicon Valley as the counties of San Mateo and Santa Clara plus Fremont, Newark and Union City in Alameda County, and Scotts Valley in Santa Cruz County. That sets up a contrast between it and that other local center of the tech industry: San Francisco. 
Silicon Valley — which obviously is larger both in geographic area and in population — has 9.6% of California's jobs and 13.1% of the state's gross domestic product, versus 4.1% and 5.9% in San Francisco, respectively, for instance. It also outweighs the city in factors such as hotel and office development, and patent registration.
However, San Francisco leads the region in venture capital, (40.3% of California VC vs. 29.2% in Silicon Valley), angel investments (34% vs. 15.4%) and startups (34% vs. 17.6%). When it comes to private companies that are worth at least $1 billion, called unicorns, and those worth at least $10 billion, called decacorns, San Francisco also has the prime spot. It contains 53.7% of California unicorn and decacorn companies, versus 28.5% in Silicon Valley. 
Here are some other economic touchstones from the report, which was released Tuesday: 
Employment and layoffs: While the drumbeat of news about tech layoffs is all-too-familiar, the report puts them in context, noting that Silicon Valley added 88,000 jobs from mid-2021 to mid 2022, a growth rate of 5% that outpaced the nation. 
"The economy is growing substantially," Hancock said. "Tech is driving that growth; it added more than 16,000 of those new jobs." Since 2010, tech has grown about twice as fast as other sectors of the economy. 
The layoffs' local impact amounted to about 11,000 jobs as of January, he said, representing just 1% of the Silicon Valley workforce and 2% of its tech workforce. 
Hancock repeated the well-known refrain that tech companies scaled up massively during the pandemic, then saw waning demand as the health crisis moderated, and had to recalibrate. 
Still, he said, "Tech is going through a painful period; I'd even call it an existential crisis." 
One big concern: "Tech hasn't had a game-changing product or super-profitable idea in about a decade." Apple's premier product, the iPhone, is about 15 years old, for instance. He pointed to artificial intelligence as the possible source of the Next Big Thing.
Venture capital: Funding from VC firms, the lifeblood of tech companies, also had a good-news/bad-news scenario. VC funding fell to $48 billion for the 12 months ended in mid 2022, down almost half of a record $90 billion a year earlier. But that $48 billion is still, itself, the second-highest compared to any other year back to the 2000 dot-com boom. 
"VC continues to flow and is fueling a lot of interesting startup activity," Hancock said, pointing to clean energy, sustainability and biotech as examples. 
However, on the "dark side of the ledger," angel investment has nose-dived 90% from $360 million for the 12 months ended in mid 2021 to $40 million for that same time period ending in mid 2022. 
Giving hope for the future: Silicon Valley registered 20,400 patents, "still in the stratosphere."
Remote work, population and real estate: Silicon Valley's knowledge workers represent the nation's highest concentration of remote workers, which has a domino effect on everything from public transit to commercial real estate to supporting businesses. 
Remote work represents "a social and cultural upheaval that will outlive the pandemic," Hancock said. 
The share of Silicon Valley workers who perform job duties at home was 35% in 2022, up from 28% a year earlier — and from 6% in 2019. For Caltrain, the impact was stark: It now has only 4,100 daily riders, down 92%, compared to 67,000 pre-pandemic. Beleaguered BART actually looks good by contrast, as it has recovered 35% of its pre-pandemic riders. 
But unlike in San Francisco, where office vacancy rates are soaring and many companies are seeking to sublet their space, the impact has not been as severe on Silicon Valley commercial spaces — at least not yet. Leasing activity was up 2% to 24.8 million square feet, although the average amount of space per lease was smaller. Office rental rates rose in 2022, although less than inflation. 
Air Quality Tracker
Check levels down to the neighborhood
Ratings for the Bay Area and California, updated every 10 minutes
Silicon Valley's population fell by almost 40,000 residents from mid-2020 to mid 2021, the highest decline ever recorded. Much of that was due to a 47% increase in people moving elsewhere, a decrease in foreign immigration as well as declining birth rates and increasing death rates. 
"Out-migration" rates — people moving away — clocked at 47,000 last year, similar to those during the dot-com bust in 2001.
Interestingly, a quarter of those  people who left simply relocated elsewhere in the Bay Area and a fifth moved to nearby parts of northern California.
Unfortunately, the population decrease didn't translate into housing being more affordable. Home prices rose 7% in 2022, with the median price now a record $1.53 million — or $1.8 million for single-family detached homes. The median rental rate is $2,900 a month. 
Meanwhile, the wealth and income divide persists. 
Annual earnings in Silicon Valley (including all sources, such as salaries, stock options, capital gains and bonuses) averaged a staggering $180,000 compared to $76,000 nationwide. 
That's hardly good news for those on the lower rungs of the ladder. 
While income inequality nationwide fell 3%, it rose 5% in Silicon Valley. "Our pace of increase since the Great Recession of 2008 has been twice that of the nation," Hancock said. 

Continue reading...
Read On "San Francisco Chronicle"
More News On "San Francisco Chronicle"