Giants ace Logan Webb honors HS football coach who kept him from quitting baseball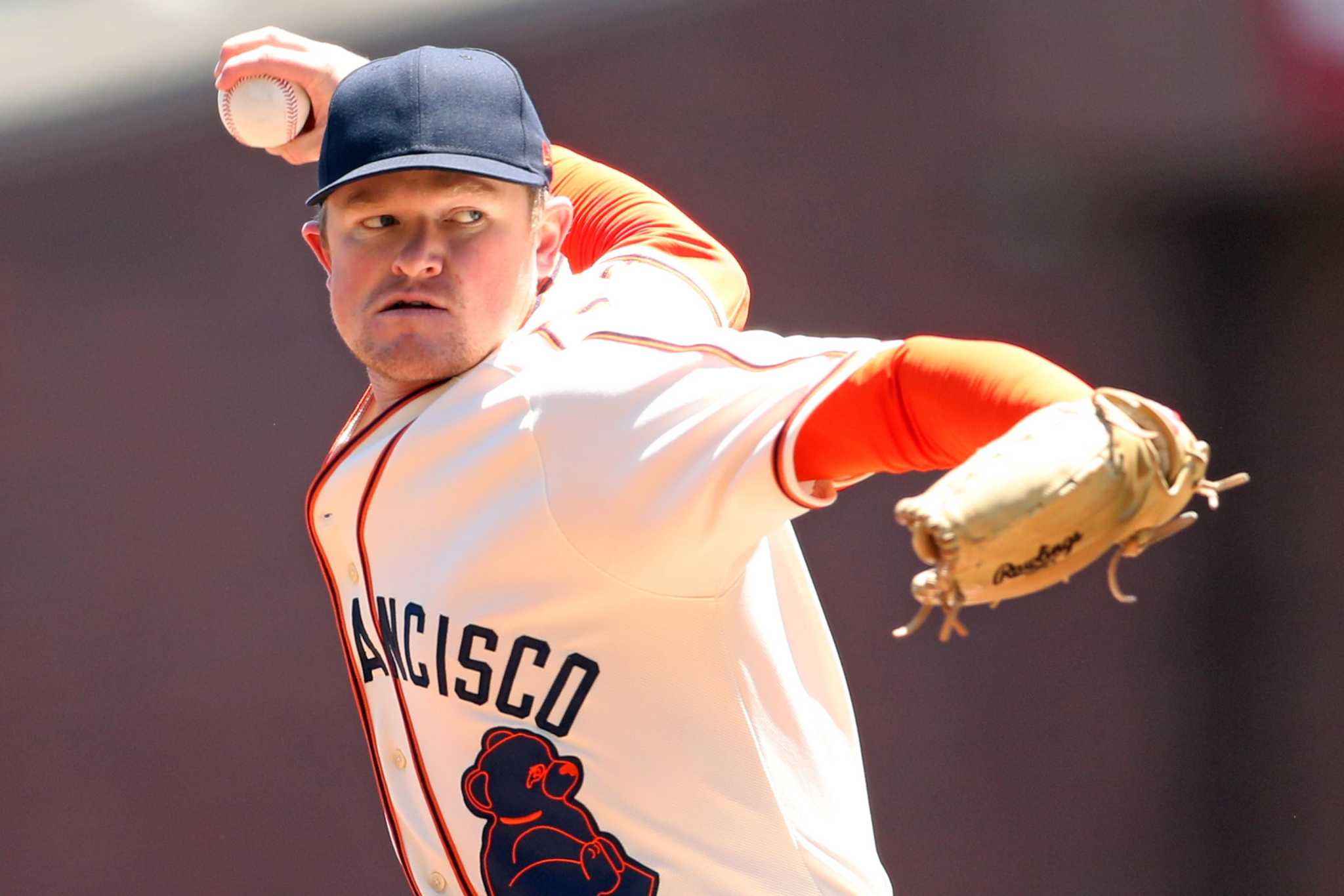 2 months ago
San Francisco Chronicle
Great coaches and mentors can flourish anywhere, and sometimes have impact well beyond their job descriptions. Case in point: Rocklin High School coach Jason Adams.
Adams, 52, was never exactly Logan Webb 's coach when Webb was a teen. He had nothing to do with baseball. And when Webb, now the San Francisco Giants ' top starter, was playing quarterback at Rocklin, Adams was the defensive coordinator.
But Adams' influence stretched across the field thanks in part to his conditioning and strength work with Rocklin's players, and especially his willingness to provide frank assessments that came with lots of empathy and a dash of personal experience. That combination is why Webb chose to honor Adams at this year's Game Changer Awards Thursday evening at Chase Center.
"It's funny, because I didn't even play on his side, but Coach Adams was really good at being there when I needed to help and he really pushed me to be a better teammate, a better person," Webb said. "There were a lot of times he got mad, but I needed that — it was the first time I'd really heard anything like that from a coach. And the thing he was so good at was that he'd call me out, but then afterward he would just sit and talk about it; I'd find him in the parking lot or his office and we'd talk for an hour just about life. He'd say, 'Hey, I got on you a little bit because I see myself in you and I know the things that I did.'
"I don't think I would have been as good as I was in high school without him, and I've carried the lessons that he's given me. He's became one of my friends, and that was the most important thing for me."
Scott Strazzante, Staff Photographer / The Chronicle
Webb has a big personality and he admitted that he needed some guidance as a teen. Adams called Webb a typical teenager — never a problem but still very much in the maturation process. That reminded Adams strongly of his own days playing for legendary coach Jim Ingram at Washington High School in Fremont.
"When Logan was here, he was like anybody else in high school — he was great some days and then needed to work on his decision making other days," Adams said. "I think he appreciated my honesty and personal perspective. I'd say we're connected, it just happened to be football that brought us together."
When it came to decision making, there was one momentous crossroads for Webb's future: As a sophomore, he briefly entertained giving up baseball to focus on football.
"I know Logan loves football because he's a team guy," Adams said. "The pitcher in baseball is one of the more unique positions because when Logan's getting the ball every every five games, you know the Giants have got a great chance of winning. But he'd like to be out there in the field, he'd like to be swinging the bat, he'd like to be shagging balls. He wants to be doing things collectively with the rest of the dudes, and I think football lends itself more to that than any other sport."
Webb stuck with both sports, and his football path looked blocked. He was playing behind one of the top quarterbacks in the Sacramento area, Daniel Kniffin, and Webb's acumen was still a little uncertain. Then Kniffen injured his shoulder the second game of Webb's junior year, and Webb got thrown into action. The coaching staff, including Adams, was blunt: Webb wasn't ready.
"We were playing our cross-town rival and we didn't want Logan to lose the game," Adams said. "We told him, 'You have to make a few plays. This is what you have to do. You got to turn the handle off.' We moved our offense around, we had an extra running back and we just pounded away and trusted our defense and we won 6-0. But basically, the message to Logan was: 'We don't trust you enough with your decision making on Friday night.'"
Anyone who's followed Webb's career with the Giants will not be surprised with Webb's response.
"Logan said, 'Hey, I don't like hearing that message. I'm going to put my nose in the playbook. I'm going to do the things you say I can't do,' " Adams said. "Well, if you fast-forward to the end of that year, we spread out, we had five receivers on the field, no running backs, Logan was making the right decisions and plays every game and we were leaning on him because he was a tremendous talent."
What: Postive Coaching Alliance's Game Changer Awards and Benefit
When: Thursday
Where: Chase Center
A telecast of the event will debut at 9 p.m. Feb. 1 on NBC Sports Bay Area.
Adams and the Rocklin staff were the first coaches to realize that Webb loves a challenge. The Giants have also learned this, especially in 2021, when Webb was earmarked for the bullpen, then returned to the rotation and went undefeated the rest of the season. When unhappy with some of his results last year, Webb got similar advice from pitching coach Andrew Bailey that he once got from Adams: challenge yourself to be better, set some personal goals beyond the overall team goals to push yourself.
"Those were the same things I heard from Coach Adams," Webb said.
The only other local athlete who has selected a coach for a Game Changer award from a sport that isn't the one he played professionally is Jack Del Rio, who honored numerous coaches from his days at Hayward High School. For Webb, choosing a football coach makes sense, though. He believes his experiences at quarterback put him in good stead for pitching in the pros.
"Being a pitcher and being a quarterback is very similar, right? You're in control of most of the game with what you do," Webb said. "You've got to act like you're in control. Playing on a Friday night with a lot of pressure, playing in a playoff game, playing against your rival, that's the only thing I can think of that compares to pitching in a big-league game for me. That helped me to be prepared for any situation, being able to calm the nerves down."
Adams still thinks of Webb every Friday night when he's got the start for the Giants — and Webb has a 2.65 ERA in 11 starts on Fridays the past two seasons.
"I always text him, 'This is your night, bro!' " Adams said. "Logan always showed up on Friday nights. Not that he doesn't pitch great the rest of the week, but there's something about Fridays that will always be special. That's good stuff."
Susan Slusser covers the Giants for The San Francisco Chronicle. Email: [email protected] Twitter: @susanslusser

Continue reading...
Read On "San Francisco Chronicle"
More News On "San Francisco Chronicle"