Heading to Tahoe this weekend? Here's what's on tap for the Sierra Nevada's weather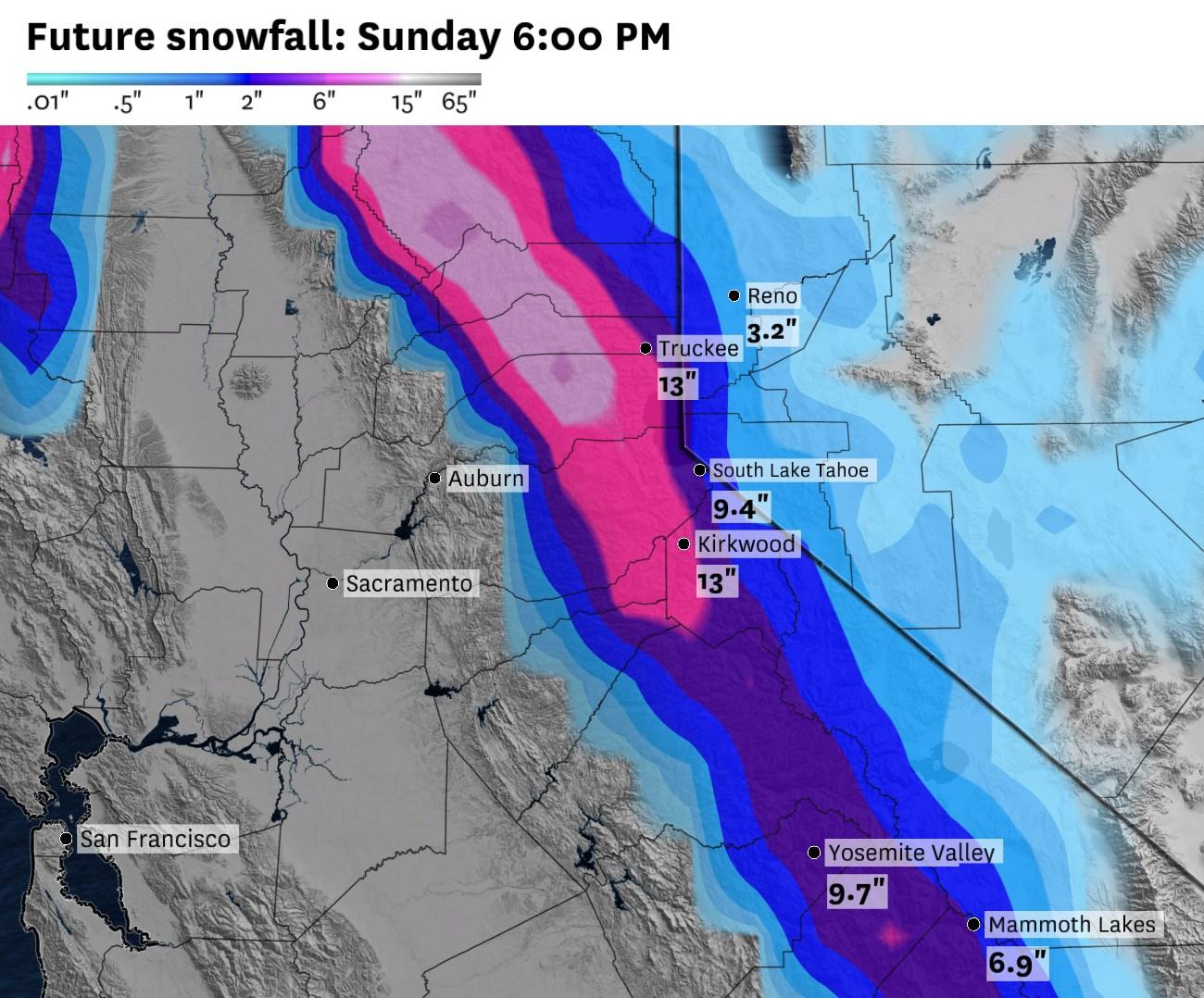 1 month ago
San Francisco Chronicle
Two low-pressure systems are heading toward Northern California today, with the first system coming in late Thursday evening into Friday morning. These systems will bring moderate winds and rain showers to the Bay Area this weekend, which will greatly help in keeping soils healthy. Some of the precipitation will then translate into beneficial additions to California's snowpack as the low-pressure systems bring waves of snow showers to Tahoe and many of the ski resorts in the Sierra Nevada.
The first low-pressure system rolls into the Sierra Nevada on Friday afternoon. Bay Area residents heading into the Sierra foothills Friday afternoon will be contending with 20 to 30 mph gusts along stretches of I-80 between Auburn and Donner Pass. Isolated gusts up to 50 mph will be possible after sunset in Donner Pass and around Mammoth Lakes after sunset as snow showers begin to pick up.
San Francisco Chronicle
These winds will be followed by brief snow squalls above 3,000 feet that will dump between a tenth and 2 inches of snow from Friday afternoon to Saturday morning at those levels, while Donner summit and peaks over 6,000 feet will see up to half a foot of snow by noon on Saturday. This is good news for those who are heading to Tahoe on Saturday morning, as weather models like the Canadian and American have been reducing the amount of snow forecast to fall out of this first low-pressure system.
A snowy Saturday night and Sunday for the Sierra Nevada
The cold front from the second low-pressure system will stream over the Sierra Nevada on Sunday after midnight, enveloping Tahoe, Truckee, the Donner Pass and most of the I-80 pass with heavy snow squalls, winds gusting to 45 mph and whiteout conditions through Sunday afternoon.
After 4 p.m. on Saturday when the second low-pressure system glides over Northern California, visitors and residents in the greater Tahoe region will want to batten down the hatches. This system's cold front will stream rounds of heavy snow and strong winds gusting to 45 mph in parts of Tahoe and over 60 mph above 3,000 feet. The worst of these conditions will peak overnight and into Sunday morning. Once all is said and done, weather models project anywhere from 2 inches to half a foot of snow on the ground around Tahoe and most of I-80 from Auburn to Reno and over 1 to 2 feet of snow above 4,000 feet.
Residents who take a southern route this weekend and make it to Yosemite and Mammoth Lakes will run into similar snow totals, with wind-facing foothills in the Yosemite Valley seeing up to 9 inches of snow while the surrounding mountains easily get over a foot and a half of snow through Sunday afternoon. Be sure to keep up to date on road closures and alternate routes from Caltrans.
Juliana Yamada/The Chronicle
Thursday breakdown
• San Francisco: A low-pressure system will slowly approach San Francisco this morning and usher cool air and streams of clouds over Sutro Tower, Bernal Heights, Mount Davidson and a few other hillsides by West Portal. Sunshine will be hard to come by on the west side today as the air moistens and clouds darken in the Sunset and Richmond districts. Some of these clouds will eventually stream east of Sutro Tower and into the Castro, downtown and SoMa before trailing into San Francisco Bay. Look for daytime highs that will just barely make it to the 60-degree mark between Muni's lines from West Portal to the Embarcadero, while commuters heading down to Glen Park and Sunnydale this afternoon will be in for highs in the mid- to upper 50s.
Winds will pick up around Ocean Beach, Golden Gate Park and the Presidio starting around 4 p.m. Look for gusts up to 20 mph across most of the west side after sunset. These wind gusts will pick up to 30 mph and spread east of Highway 1 toward Twin Peaks by 6 p.m. Weather models expect the bulk of these wind gusts to stay west of Church and Market, but 15 to 20 mph gusts can't be ruled out this evening for downtown, the Tenderloin, Japantown and SoMa.
If you plan to be out and about after 10 p.m. tonight, be sure to have a raincoat or umbrella handy. Drizzles will start to develop along hillsides and the shoreline. The low-pressure system will then stream its first round of rain showers into San Francisco after midnight.
• Pacific Coast and Peninsula: Once the Peninsula's foothills and summits thaw out from morning lows in the 30s, clouds will begin streaming into the coastline. Winds on the coast will reach 20 mph this afternoon thanks to a cold front spreading east and filling in the San Bruno Gap with dark clouds. BART riders at San Francisco International Airport and Daly City will feel winds pick up during the afternoon commute home as they pick up to 30 mph along the gap.
Drivers on Highway 92 between Half Moon Bay and San Mateo will also experience 25 to 30 mph gusts as drizzles begin to develop on the foothills this evening. All the cloud cover during the day will help to keep daytime highs in the upper 50s along Highway 1 while mid-50s will be found in Daly City, South San Francisco and Millbrae.
All the cloud cover will keep nighttime lows in the lower 50s on the coast, while cities along the 101 corridor south of Millbrae are likely to fall to the upper 40s tonight thanks to breaks in the clouds. Expect drizzles and patches of light rain to spread to the San Bruno Gap and most of Highway 1 as the cold front approaches the Peninsula by midnight.
• North Bay: Today will host the last bitter cold morning of the week as a blanket of clouds slowly sets up shop over Petaluma, Santa Rosa and Napa valleys — along with some of the summits in the Marin Headlands. Look for morning lows in the mid-30s across the inland valleys. Commuters traveling along Highways 101, 29 and 17 after 9 a.m. will notice an uptick in winds after 1 p.m., with gusts reaching 30 mph by mid-afternoon. Skies will also darken as clouds sweep onto the Sonoma County and Marin County coastlines and spread east.
Drought Map
Track water shortages and restrictions across Bay Area
Updated to include drought zones while tracking water shortage status of your area, plus reservoir levels and a list of restrictions for the Bay Area's largest water districts.
Patches of Napa and Sonoma counties, including Healdsburg and Guerneville, will reach the 60-degree mark between 1 and 3 p.m. right before most of the clouds roll in. Cool air off San Pablo Bay and the delta keep the rest of the banana belt along 101 from Novato to San Rafael and cities along Highways 37, 80 and 780 in Solano County in the upper 50s.
Look for regionwide nighttime lows to fall only to the 40s and 50s thanks to the cloud cover overhead. Residents along the Marin Headlands and Sonoma coast will then see drizzles and light rain showers starting around 11 p.m., becoming more widespread across Napa and Sonoma counties after midnight.
• East Bay: One of the warmest areas in the East Bay this morning will once again be Alameda, where San Francisco Bay's warm waters will keep lows from falling below 40 degrees. Most East Bay residents along the I-80/I-880 corridors will wake up to another round of morning temperatures in the upper 30s while wind-sheltered stretches of the Oakland and Berkeley hills will likely fall to freezing again before sunrise — including valleys near the Caldecott Tunnel.
After 9 a.m., temperatures will steadily rise to the mid-40s in the coldest spots east of the I-680 corridor. Cities like Concord, Walnut Creek and the San Ramon and Livermore valleys will warm to the upper 40s and lower 50s by 10 a.m. and reach their daytime highs in the upper 50s just after 1 p.m. Daytime highs in bayside cities like Oakland, Fremont, Hayward and Richmond will run closer to the 60-degree mark. But clouds will quickly spread across Alameda and Contra Costa counties this afternoon as northwest winds — reaching gusts to 30 mph —spread dark clouds into the rest of the region.
The clouds will then act like a blanket over most of Contra Costa and Alameda counties tonight, raising nighttime temperatures by another 5 to 7 degrees. This means lows will drop only to the mid- to upper 40s, with a few isolated patches of lower 40s near Moraga and parts of the San Ramon and Livermore valleys.
• South Bay and Santa Cruz: This will be the last bitter cold morning this week for the Santa Clara Valley and the Santa Cruz Mountains. Clouds from a low-pressure system will begin to blanket most of the region today and tonight, sparing bayside residents in San Jose, Milpitas and Sunnyvale, and coastal residents in Santa Cruz, Aptos and Capitola from any more cold snaps this week. But these clouds will hoist a hefty amount of moisture and winds onto the coast.
Expect breezy conditions in mountains and valleys after 1 p.m., with gusts over 20 mph hovering over East San Jose and the foothills of the Santa Clara Valley. These winds will help stream clouds ashore during the afternoon and evening. Residents along the highway 101 and 17 corridors will see daytime highs clocking into the lower 60s. Some of the warmest spots will be San Jose, Los Gatos and Morgan Hill, where mid-60s are possible. This warmth will be contrasted by the upper 50s and lower 60s on tap for the Santa Cruz Mountains and coastline, which will see more widespread winds gusting to 30 mph this afternoon and evening.
After sunset, the South Bay and Santa Cruz Mountains will trap some of the heat from earlier in the day thanks to cloudy skies. This will keep most of the Santa Clara Valley and mountains in the 40s overnight. Look for patchy drizzles in the foothills and mountains after 10 p.m.
Gerry Díaz (he/they) is a San Francisco Chronicle newsroom meteorologist. Email: [email protected] Twitter @geravitywave

Continue reading...
Read On "San Francisco Chronicle"
More News On "San Francisco Chronicle"