The Booze-Free Crystalline Dreams at Stampede Cocktail Club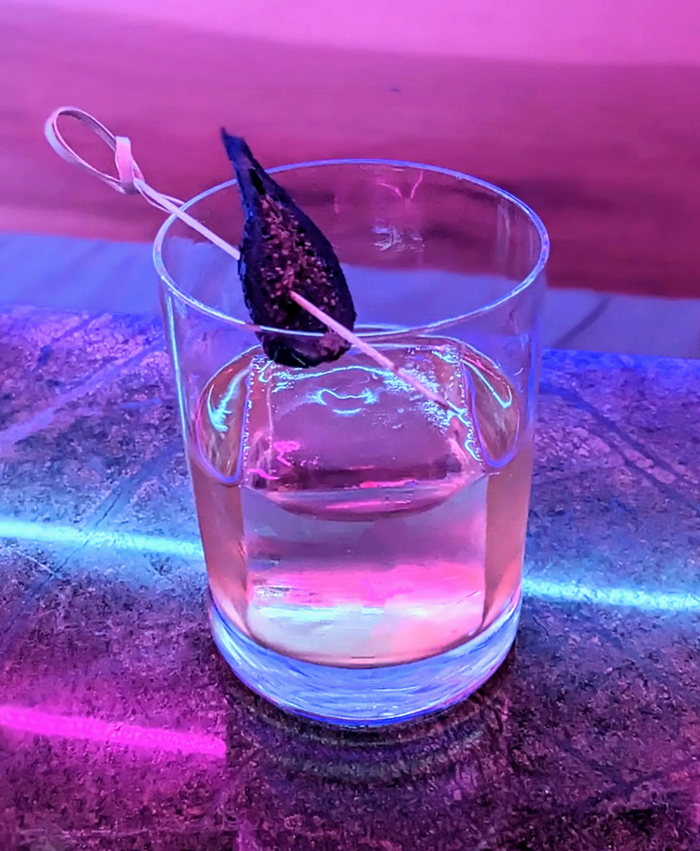 2 months ago
The Stranger
Sooooo, you guys ever try to do Dry January? I gave it a shot this month, a first for me, and friends? It's been a bad time. Not because I miss booze—that's not it at all. It's because Seattle kinda sucks at mocktails. 
(I hate this dumb word, by the way, and have been trying to bully everyone into using "foxtails" instead. Get it, like faux-tails? OMG, so cute.)
Yeah, I know there are lots of exceptions. When complaining about this to the internet, I'm inundated with names of Seattle bars that DO have great zero-proof menus, but it's not the point at all. There are thousands of bars in this major American metropolis, and at least half of them will offer you a list of Coca-Cola products when you ask for a non-alcoholic drink. I don't want a fucking Coke. I don't want a soda water with bitters either. I want a BEVERIDGE-uh. What I learned this month was that like 5% of the bars in Seattle will actually make you one when asked, and the others will basically tell you to fuck off. One lackadaisical bartender said, "The best I can do is a virgin margarita, from the mix?" and physically shrugged, which made me want to kick over all the barstools. That's disgusting, man. 
The attitude seems to be "Don't come to the alcohol store if you don't want alcohol," ignoring the idea that a bar is also a community space where people spend leisure time and take meals. At best, it's intellectually lazy and leaves a lot of meat on the bone. What if someone's pregnant? Or on medication that conflicts with alcohol? What if someone drank too much yesterday and has a hangover but still wants to chill and spend money? Why wouldn't their non-alcoholic dollars spend just as well?
If a bar's equipped to make a good cocktail, it can make a good foxtail. You've got all the fruit juice and ginger beer and shrubs and herbs and tinctures sitting right there—so freestyle something. I demand it. Every bartender in Seattle should have at least a couple ideas for a delicious, beautiful non-alcoholic drink at the ready, and they're fucking up if they don't. 
Rant over. Okay. Do you know who absolutely is flaying all these other bars alive in the cocktail game, alcoholic or nah? Is Stampede Cocktail Club in Fremont. You probably know that Stampede's been well hailed for its innovative, god-tier craft cocktail list, but the bar deserves every speck of equal praise for its temperance cocktails. I snuggled up to the bar one freezing, rainy January night and sampled the whole N/A menu. While all five foxtails knocked spots off the local competition, the ethereal Crystalline Dreams spoke to me like no drink had in a WHILE.
Named for a campaign in a Dungeons & Dragons video game, Crystalline Dreams is a take on the clarified milk punch, comprising a fig-vanilla-balsamic reduction, grapefruit juice, maple syrup, Seedlip Spice 94, honey, and goat milk. It's then clarified and served in a lowball over a giant cube, with a li'l dried fig as a garnish. The effect is a translucent peachy elixir, made luminous by the neon light in Stampede's little vaporwave alcove. Sweet from the maple and vanilla and fig, tart from the balsamico and the citrus. Smooth and glassy from the clarified milk and the maple, warm and herbal from the spices in the Seedlip—green cardamom, allspice, oak bark, cascarilla. Potent for not having any liquor in it. You want to sip this one next to a roaring fireplace while dressed like the Snow Queen from Faerie Tale Theatre, if possible. It's like drinking moonbeams.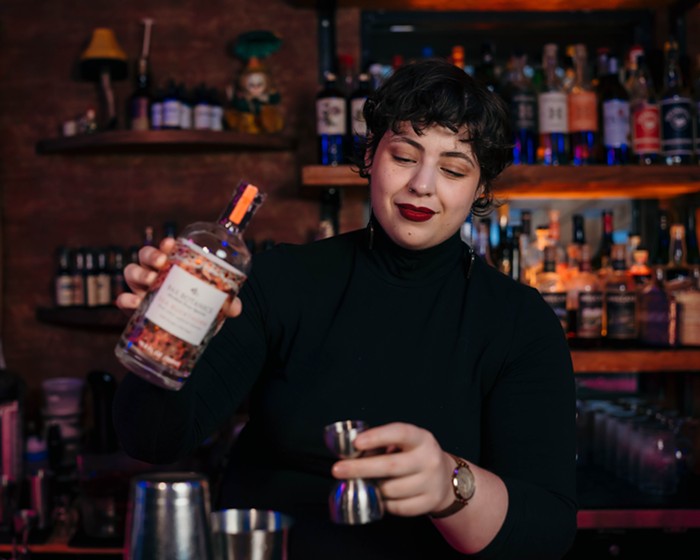 Stampede's bar lead, Kayleigh Blome, working their mixological magic on hard mode. "I keep The Flavor Bible: The Essential Guide to Culinary Creativity on my nightstand!" they say.
Kate Morrow
Crystalline Dreams and its spirit-free siblings are the brainchildren of Kayleigh Blome, who leads the cocktail program at Stampede. Originally from Los Angeles County, Kayleigh's been in town for about a decade, and they were interviewed back in November 2022 by Imbibe magazine, actually, on the very topic of non-alcoholic cocktails. They started in the coffee industry and have been bartending since 2019. 
"I've only worked at one other bar, and Stampede's is the first program I've ever bartended," Kayleigh tells me. "I like to do things on hard mode, I guess! But I got to learn for about a year and a half and develop drinks for the menu before I stepped behind the bar [at Stampede] in late 2021." 
To call Kayleigh's drinks "creative" is an obscene understatement. They're like thoughtful little paintings, or entire curated albums. My second fave on the N/A list, the Mirror of My Heart, starts with housemade orgeat based on pistachio and honey, to which they add rosewater, cardamom, soda, Wilderton Lustre (orange, tarragon, lavender), and the Pathfinder zero-proof amaro (sage, Doug fir, saffron). Then it's served long with a straw, like iced coffee, and topped with teeny dried rosebuds. Creamy and nutty from the pistachio, rich and bright from the honey, floral and herbal from the everything else. An idyllic flower garden in summer. The smell will give you narcolepsy. 
Like many craft bartenders, Kayleigh makes a bunch of the beverage potions in-house. About the process of coming up with new flavor profiles, they say they're often recreating something—a spirit, a scent, a sense memory. "For example, the raspberry shrub I make mimics the complexity and slight woody bitterness of raspberry liqueur." But sometimes it's pure imagination. "Thanks to the years I've spent developing menus in the coffee, chocolate, and events worlds, I know how to research, and how to apply techniques from other avenues to my purposes! I occasionally fall headfirst into a book on a really specific kind of drink or food practice and grow an idea from there." 
In second place from Stampede's non-alcoholic menu is the Mirror of My Heart, with pistachio-honey orgeat, rosewater, cardamom, soda, Wilderton Lustre, and The Pathfinder N/A amaro, And li'l baby rosebuds.
Meg van Huygen
Back to Crystalline Dreams. When developing this new take on the clarified milk punch, a drink that's about 300 years old, Kayleigh says, "It seemed like a great template for a non-alcoholic cocktail because booze is not the predominant flavor, and the process of combining acid and milk and then filtering it creates something wonderful in texture. Crystalline Dreams is the second milk punch I've put in the program, and this one was inspired by charcuterie! I'm not even kidding. I tasted this great local fig-vanilla-balsamic reduction and knew I wanted to use it in a cocktail. I imagined what I would pair it with on a snack plate and got to work." 
You can't talk about the cocktail program at Stampede without a nod to Mattea Bertling, the genius behind their lavishly illustrated zine of a menu. The current edition's an homage to 1940s comic books, art deco travel posters, and vintage ads for magicians. "Mattea has been the menu designer for at least as long as I've worked at Stampede," Kayleigh says, "bringing to life every innovative idea that [owner] Paul Shanrock has created over the years. From cinema posters to CD lyric books, from murder mysteries to Choose Your Own Adventure-inspired artwork. They make a great team!" The menu is a masterwork; hopefully, they're all being archived somewhere.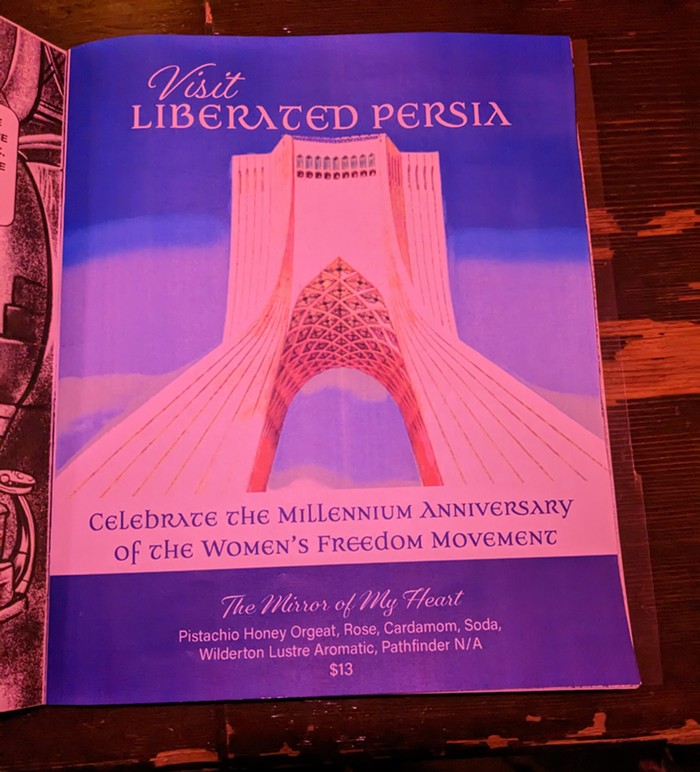 A page from the brilliant illustrated menu zine at Stampede, by artist Mattea Bertling—a nod to a vintage travel poster.
Meg van Huygen
I asked Kayleigh to give me some closing remarks on their experience with cocktail (and foxtail) culture in Seattle, and they responded with their trademark enthusiasm. "It's just incredible to be included, and even more so to just provide choices. From that first N/A menu, I fell head over heels with making something special for an underserved demographic. And honestly, I think it helped that I didn't have a cocktail background, because there are rules when it comes to cocktail-making that are tried and true that simply don't apply to the non-alcoholic world. It would be incredibly frustrating to have all this incredible knowledge on flavor that doesn't translate!" 
"It has been a pleasure," they add, "watching the beginning steps to the culture around drinking change, and watching the excitement grow around N/A options that are nuanced and interesting. For some, not drinking is a part of life and they're used to feeling left out of things, and for others, not drinking is a sacrifice because it means losing an occasion to connect. Either way, creating new N/A beverage options allows people to be intentional with the choice—whether they aren't drinking or are just choosing to drink less." 
CaptAnother ingenious cut from the illustrated cocktail menu by artist Mattea Bertling, in the style of an old magician poster.
Meg van Huygenion
As a sober-curious person who went into this experiment just to dally, I found these chats with Kayleigh pretty galvanizing. It's about having choices, as they say. Until a couple weeks ago, I'd always had my choice of everything on the menu, tra la, and didn't generally think about ever not having it. I'll probably go back on the sauce once the month's over—but knowing what I know now, I'll absolutely return to Stampede just for their previously ignored non-alc menu, which I'm suddenly thinking about as not only necessary but desirable. I don't have to order these drinks, but I want these drinks. I've made friends cross the city to come try them. We choose them.
There's no question that Kayleigh Blome is changing the entire cocktail ballgame in Seattle. But if you consider the folks who're relegated to this small corner of the drink menu, and who are, in fact, often dependent upon it to connect with others in spaces like bars, where they're often socially excluded or just shrugged at—it's clear that Kayleigh's changing people's lives along with it.
Continue reading...
Read On "The Stranger"
More News On "The Stranger"